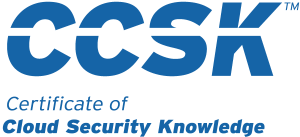 The CCSK brochure is available here , and the CCSK training schedule is available here
Posts and articles discussing CCSK can be found here
Is CCSK easy or difficult ? Find the answer here
CCSK training – key points :
official Cloud Security Alliance CCSK training material
delivered by a CCSK Authorized Instructor
2 options:

CCSK Foundation (theory only)
CCSK Plus (theory + labs)

latest version (currently v4.1)
real life scenarios and practice exam questions
CCSK exam token (with 2 attempts) provided
certificate of attendance provided (you can claim 14 CPEs for CCSK Foundation, and 21 CPEs for CCSK Plus)
Prerequisites :
there are no strict prerequisites for the CCSK training, however a general knowledge of IT will help
CCSK Foundation – theory only , no labs
Modules 1 to 6 (see modules details below)
duration : 2 days (16 hours)
CPEs : 14
CCSK exam token included (2 attempts)
practice exam questions
CCSK Plus – theory and labs on AWS and Azure
Modules 1 to 6 + Labs 1 to 6 (see modules and labs details below)
participants chose the cloud platform they prefer (either AWS or Azure)
duration : 3 days (24 hours)
CPEs : 21
CCSK exam token included (2 attempts)
practice exam questions
CCSK Modules 1 to 6 :
Module 1 : Cloud Architecture
The fundamentals of cloud computing, including definitions, architectures, and the role of virtualization.
Key topics include cloud computing service models, delivery models, and fundamental characteristics.
It also introduces the Shared Responsibilities Model and a framework for approaching cloud security.
Module 2 : Infrastructure Security for Cloud
Delves into the details of securing the core infrastructure for cloud computing- including cloud components, networks, management interfaces, and administrator credentials.
It delves into virtual networking and workload security, including the basics of containers and serverless.
Module 3 : Managing Cloud Security and Risk
Covers important considerations for managing security for cloud computing.
It begins with risk assessment and governance, then covers legal and compliance issues, such as discovery requirements in the cloud.
It also covers important CSA risk tools including the CAIQ, CCM, and STAR registry.
Module 4 : Data Security for Cloud Computing
Covers information lifecycle management for the cloud and how to apply security controls, with an emphasis on public cloud.
Topics include the Data Security Lifecycle, cloud storage models, data security issues with different delivery models, and managing encryption in and for the cloud, including customer managed keys (BYOK).
Module 5 : Application Security and Identity Management for Cloud Computing
Covers identity management and application security for cloud deployments.
Topics include federated identity and different IAM applications, secure development, and managing application security in and for the cloud.
Module 6 : Cloud Security Operations
Key considerations when evaluating, selecting, and managing cloud computing providers.
We also discuss the role of Security as a Service providers and the impact of cloud on Incident Response.
CCSK Labs 1 to 6
Lab 1 : Core Account Security
You will learn what to configure in the first 5 minutes of opening a new cloud account and enable security controls such as MFA, basic monitoring, and IAM.
Lab 2 : IAM and Monitoring In-Depth
You will expand your work on the first lab and implement more-complex identity management and monitoring.
This includes expanding IAM with Attribute Based Access Controls, implementing security alerting, and understanding how to structure enterprise scale IAM and monitoring
Lab 3 : Network and Instance Security
You will create a virtual network (VPC) and implement a baseline security configuration.
You will also learn how to securely select and launch a virtual machine (instance), run a vulnerability assessment in the cloud, and connect to the instance
Lab 4 : Encryption and Storage Security
You will expand your deployment by adding a storage volume encrypted with a customer managed key.
You will also learn how to secure snapshots and other data
Lab 5 : Application Security and Federation
You will finish the technical labs by completely building out a 2-tier application and implementing federated identity using OpenID
Lab 6 : Risk and Provider Assessment
You will use the CSA Cloud Controls Matrix and STAR registry to evaluate risk and select a cloud provider
CCSK exam:
60 questions, 90 minutes, pass mark: 80%
the only requirement to obtain the CCSK certificate is to pass the CCSK exam
The CCSK brochure is available here , and the CCSK training schedule is available here
Posts and articles discussing CCSK can be found here
Is CCSK easy or difficult ? Find the answer here